After a challenging season, Britten aims to run three strong races at The Dirt Track at Charlotte for this second straight fourth-place finish in points
Going into World Finals last season, Peter Britten was in contention to record a podium finish in the point standings. He eventually finished fourth, vowing to come back stronger in the 2022 season.
Due to some misfortunes throughout the season, Britten now enters the World of Outlaws World Finals, Nov. 2-5, sitting seventh in Super DIRTcar Series points. However, a chance at redemption and recording his second straight career best finish in points is still possible.
Fourth through seventh place are currently separated by a 28-point margin, leaving plenty of room for shuffling during the three nights of racing at The Dirt Track at Charlotte this year. While a podium finish in points is out of reach, Britten would see a fourth-place finish in points as a positive note to end the season on.
"Realistically, I've reset my target for fourth in points for the end of the year," Britten said.
I believe if we go down there and we have three strong runs, we can do it… That's achievable."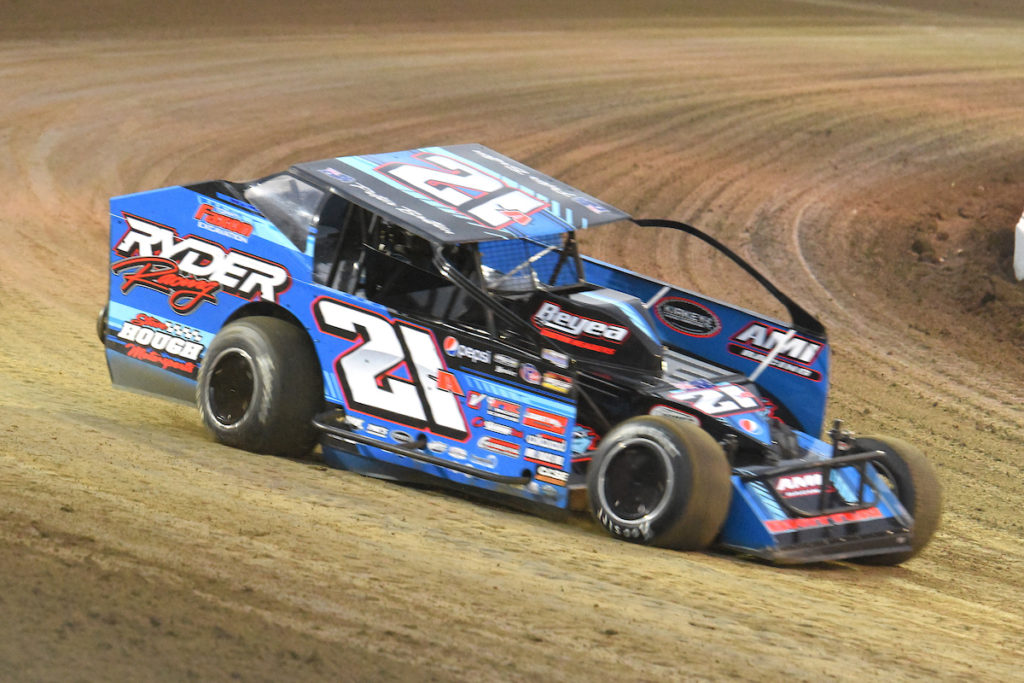 No stranger to the track – having finished third in the final race there in 2021 – Britten already has his notebook set up for the three-day matchup.
"I feel like if we can go down there and qualify and put ourselves in position to finish well in the Feature, obviously that will go a long way towards making all that happen," Britten said. "We'll [try to] start off the weekend fast and carry that momentum through… It will be our aim to unload fast on Thursday and try to carry it through the whole weekend."
The start of Britten's 2022 season looked promising during DIRTcar Nationals in February. He picked up a win and was the leading contender for the Big Gator Championship until one bad night took him out of the running. Then, when the championship season for the Super DIRTcar Series started, he earned two straight top-10 finishes, but was inconsistent the rest of the year – leading to his current season results of two top fives and seven top 10s.
"We hit some stumbling blocks this year for a variety of reasons," Britten said. "I had a couple of mechanical gremlins that took us out of a couple of races, a couple of times at the racetrack. I made some poor choices for the set-up for the Feature. You know, I just missed it a couple of times, badly."
Even with the stumbling blocks, the year has not been a total loss. Though he may not fulfill the expectations he initially set for himself for this season, Britten will have much to battle for when he enters the World of Outlaws World Finals at The Dirt Track at Charlotte Nov. 2-5.
Along with battling for a top-five finish in points, the payout for World Finals has increased this year. The Features on Thursday (Nov. 3) and Friday (Nov. 4) will pay $10,000 to win for the Series and Saturday's finale (Nov. 5) will pay $15,000 to win.
Before Britten and the rest of the stars of the Super DIRTcar Series enter their first night of competition at World Finals, fans will get to meet them in person during the Fan Fest on Wednesday, Nov. 2 – from 2-4pm for all fans – along the front stretch where drivers will bring their cars, sign autographs and interact with fans.
For tickets to the World of Outlaws World Finals, Nov. 2-5: CLICK HERE
If you can't make it to the track, you can watch every lap of the World of Outlaws World Finals live on DIRTVision – either at DIRTVision.com or by downloading the DIRTVision App.